Homepage Slider
Allied Reliability, Inc./T.F. Hudgins, Inc. and GTI Predictive Technologies, Inc. Form Strategic Partnership
Partnership provides integrated Open Architecture application for Condition Monitoring Market
Houston, TX December 16th, 2016 – Representatives from Allied Reliability, Inc./T.F. Hudgins, Inc., leading providers of condition monitoring services, reliability product solutions, and high value services, and GTI Predictive Technologies, Inc., a provider of vibration data collection and analysis products, balancing, shaft alignment, thermography, and ultrasound, announce a strategic partnership to support customers in the condition monitoring market.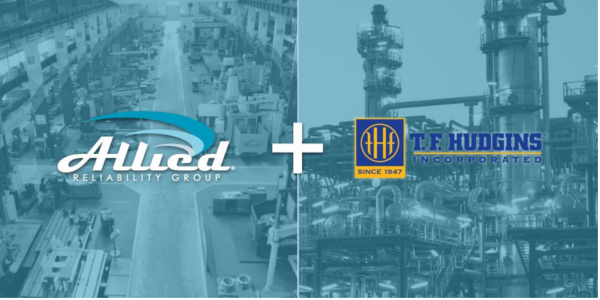 This partnership combines the condition monitoring domain expertise and technology innovations of companies committed to improving customer's reliability and performance across a broad range of high-value rotating machines.
 John Schultz, Founding Partner of Allied Reliability and current EVP of the Allied Reliability/ T.F. Hudgins combined company, said, "We are extremely excited to be partnered with GTI Predictive. This is just the latest example of how having an open architecture solution allows us to integrate best-of-breed products into our delivery model. GTI's iPad solution combined with our mobility offering allows for a low-cost approach to collecting high quality predictive, preventive, and operator care data with the form factor desired by the market. The partnership with GTI Predictive further enables our Condition Monitoring as a Service (CMaaS) solution across GTI's, Allied's and T.F. Hudgins' customer base."
 Tom Hoenig, President of GTI Predictive Technology, said, "We at GTI are proud to have such a prominent organization as Allied Reliability/T.F. Hudgins choose to embrace our iPad product line. Ease of collecting accurate data quickly and having multiple tools on one platform lowers the overall cost. Decision makers can act faster than ever by receiving critical data instantly through this Internet-connected platform and moves us all one step closer to the Industrial Internet of Things (IIoT)."
Hoenig continues, "This strategic partnership enables the most affordable condition monitoring service for any production company. GTI's completely wireless platform enables GTI and Allied to offer the same quality program to the machine tool industry and its users. Production facilities that require closed doors and other safety protocols to be followed can now utilize this condition monitoring service, with a product designed and optimized for collecting data in environments where other data collectors struggle."
ABOUT GTI PREDICTIVE TECHNOLOGIES, INC.
GTI Predictive Technologies, Inc., a subsidiary of GTI Spindle Technology, is a Manchester, NH based provider of predictive maintenance tools and on-site services for machinery used in a wide range of heavy industries, including petrochemical, refining, natural gas, manufacturing, mining, and transportation. 
ABOUT ALLIED RELIABILITY, INC./T.F. HUDGINS, INC. 
Allied Reliability, Inc., a Charleston, SC based company, provides reliability and maintenance services, offering a full suite of solutions through condition monitoring, reliability and operational consulting, training, staffing, electrical services, and integrated products.
T.F. Hudgins, Inc., a Houston, TX based company, provides a portfolio of engineered products and services that improve the reliability of high-value equipment.
Both companies are a portfolio member of The CapStreet Group, a Houston-based private equity firm founded in 1990, specializing in investments in lower middle market companies.
Media Contacts:
Jason Langhorne
VP-Marketing, Allied Reliability Group
tel:740.262.0070
email:langhornejason@alliedreliability.com
Tim Chaten
Marketing Coordinator, GTI Predictive Technology, Inc.
tel:603.669.5993
email:tim@gtispindle.com
Tagged Allied Reliability, GTI Predictive Technologies Form, Strategic Partnership, T.F. Hudgins