Predictive Maintenance
Wi-care wireless vibration and temperature condition monitoring system
Monitoring of a Paper Rolling cylinder
Introduction
Instruments deployed in the condition monitoring market for data collection are generally either portable data collectors in a manual/walk-around measurements mode or permanently installed online systems that continuously collect and store data of high criticality assets. However, there are still a number of drawbacks to wider installation such as: The high cost of cabling and installation; Purchase of and personnel training on analysis software; insufficient justification for a permanent system; machines where fixed cabling is not possible
It is now possible to reduce most of these costs. The installation of a wireless vibration monitoring system coupled to remote condition monitoring diagnosis provides some of the answers. The following case study represents a typical remote analysis application of a paper rolling cylinder. The monitoring was performed in a very effective way for the customer and analyst:
For the Customer: Quick installation of continuous data collection for their critical asset with no retrofitting. Almost impossible to install wired system due to equipment movement characteristics.
For the analyst: Continuous data (Historic and Remedial Action Recommendation) from the monitoring Center without any travel or measurement time spent. No waste of time due to tear paper, roll changing or cleaning operation.
Equipment, plant overview, Context
The Manufacturing site is a Paper Plant, established in Eastern Europe. where the equipment ,installed 4 years ago ,is operating at full capacity, The Equipment in question is a Paper roll up system at one side of a coating line. The equipment is fully automated to allow roll replacement without stopping the line. This represents an enormous advantage in terms of production capacity but also a "nightmare" for traditional condition monitoring techniques due to large movements of the rollers (see video). Several bearing failures had already occurred on the main roll shaft leading to maintenance and production shutdown. The Customer requested I-Care support via Wi-care wireless system to monitor continuously bearing condition, checking in particular for evidence of looseness in the collected spectra.
Analyst diagnosis and spectrum justification: Looseness – Bearing frequencies
The Wi-care system was installed on the main shaft in minutes using magnetic locators to cover the two bearing locations in the vertical & horizontal planes.
Standard spectrum collected via Wi-care in the vertical axis. The dominant frequency appears at 798 Hz and its harmonics.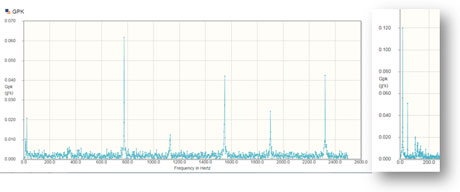 On a closer zoom (Graph on Right hand side) we can see the rotation frequency 18 Hz and its harmonics. The amplitude are still low 0,10-0,20 G Peak.
Data analysis indicates a low level of vibration at this stage and almost no defect. Nevertheless, We can clearly see and monitor the first track of possible looseness (1XRPM multiple). You may recall that bearing looseness was the origin of previous breakdowns. The Wi-care system clearly demonstrates its ability to monitor 1XRM_PM multiples from a very early stage ensuring detection of eventual future looseness. The decision was taken to invest in permanent Wi-care monitoring of the rollers.
ROI and time frame
| | |
| --- | --- |
| COST | |
| Bearing replacement delay | 10 hours |
| Bearing replacement cost | 2 500 € |
| Shaft and Bearing replacement | 35 000 € |
| Production loss | >40 000 € |
| Defect previous occurrence | 3 times/year |
| INVESTMENT | |
| Wi-care system +install+ close monitoring + expertise diagnosis + reporting | < 10 k€ |
Wi-care product and remote diagnosis overview
How does it work ?
The Wi-care™ system is the latest wireless condition monitoring system from I-Care. The system has been designed to detect, measure and analyse the root causes of excessive levels of vibration and temperature. The Wi-care system is a cost-effective tool used to report any vibration or temperature deviation in a short time. The I-CARE team of engineers using the data from Wi-care are able to give you a condition monitoring remote diagnosis at any time 24 hours a day/7 days a week. The condition based maintenance partnership has been created to give you the chance to correct a potential problem before it occurs.
The solution developed in the Wi-care system is based on a receiver connected on the internet and able to manage up to 144 transmitters, each transmitter sending vibration and temperature data. In order to reach long distance data transfer and remote locations, the WI-care involves a range extender in its network. Using a web-based portal to manage the system avoids any extra cost and any difficulties linked to the software. We all know how frustrating it is when you are waiting for your data analysis and you can't make any quick condition based maintenance decision due to software issues.
Added value?
Online monitoring based on permanent wired sensors can be expensive in many applications. Wireless monitoring with wireless vibration sensors improves the reliability of difficult-to-monitor assets with quick and cost effective installation. Wireless vibration monitoring gives added value in a more flexible system, cutting expense and labour costs on installation and maintenance of the old wired vibration and temperature sensors. You simply attach the sensors using extra-strong magnets where you need them and in minutes they create a large network of real time data transmission to the gateway data manger in tandem with the range extender. The solution created by Wi-care is very flexible and cost effective because it allows the reuse of existing piezoelectric vibration sensors which can be turned into wireless vibration sensors with the single action of plugging the sensor into the Wi-care transmitter.
http://www.wirelessvibration.eu/added-values-wireless-vibration-sensor.html
Tagged condition monitoring, Paper Rolling cylinder, temperature, Wi-care, wireless vibration